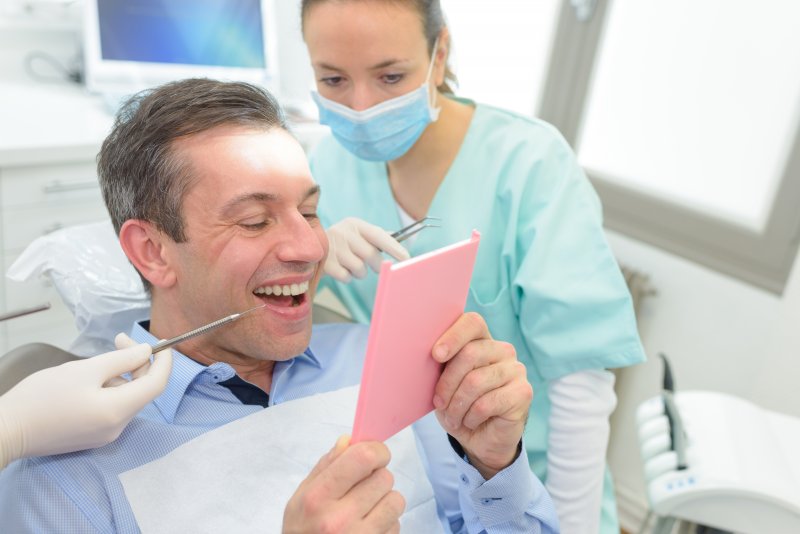 Despite water flossers, electric toothbrushes, and other innovative gadgets designed to make our at-home oral hygiene regimen more effective and efficient than ever, cavities are still a rampant condition among Americans. According to the Centers for Disease Control and Prevention, over 1 in 4 U.S. adults have untreated tooth decay and more than 90% have had at least one cavity by their 21st birthday. Fortunately, breakthrough CEREC® technology has developed same-day dental crowns that can restore both the function and aesthetic of your smile. Keep reading to learn more about the evolution of this tooth-saving solution!
History of Dental Crowns: From Metal to Porcelain
According to historians, the use of metal dental crowns dates back thousands of years! In fact, skeletons from ancient civilizations, like the Etruscans, have gold caps and gold tooth replacements, which is believed to be a symbol of their status. However, the invention of the first modern dental crown is accredited to Dr. Charles Land, who effectively restored a damaged tooth by placing an all-porcelain "cap" over it in 1903. In the last 100+ years, technology and the field of dentistry have made vast advancements, making dental crowns today more lifelike, durable, and long-lasting than ever before.
CEREC® Same-Day Dental Crowns: Then & Now
Traditionally, restoring a severely damaged or decayed tooth required multiple appointments, temporary crowns, and the use of off-site labs. Over 20 years ago, however, CEREC® introduced ground-breaking technology that allowed clinicians to craft dental crowns out of a ceramic block, making the process of restoring a patient's smile more effective and convenient than ever before. As technology has advanced, the process of creating same-day dental crowns has kept up. Today, they allow dentists to preserve even more of your tooth's natural structure, provide the necessary treatment without leaving unsightly dark spots like the metal alternatives did, and complete the entire process in a single appointment.
Dental crowns are one of the most popular restorative treatments available today, and rightly so! The high-quality materials combined with the latest in proven dental technology allow patients to regain their restored, fully functional smile in just one visit. So, if you are struggling with a cracked, decayed, or otherwise damaged tooth, don't hesitate to ask your dental team about CEREC® technology!
About the Practice
At Cornerstone Dental, you won't just find exceptional dental care delivered by experienced professionals, you'll find a friendly, compassionate team who genuinely cares about improving your oral health and smile. Dr. Stacy Goodwill and Dr. Jessica Majidian both understand that restoring one or more damaged teeth is essential, but it can also be inconvenient if you have to come back week after week – that's why they are proud to offer same-day dental crowns! If you are interested in learning more about this technology or would like to schedule an appointment, visit our website or give us a call at 701-237-3583.