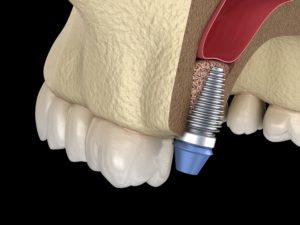 Your teeth are meant to last for a lifetime, but that doesn't always happen. Despite the newest innovations in dentistry, at least 120 million Americans are missing one or more teeth. You have more options than ever to treat your tooth loss; however, many adults prefer dental implants because they are the only solution to recreate both the root and crown. They work a bit differently than traditional prosthetics, but there isn't any reason to worry. Here are the basics of dental implants to help you make the best decision for your smile.
What are Dental Implants?
A traditional dental prosthetic only restore the portion of a tooth visible above the gum line. A dental implant goes a step further to rebuild the entire tooth. A titanium implant is surgically placed into your jawbone to act as a root. An abutment is connected to the post to attach your restoration, which is carefully crafted to match your real teeth to look natural.
What is the Process Like?
Replacing a lost tooth with a dental implant requires various steps that take several months to complete. After an initial consultation, your dentist will develop a personalized strategy, which can include multiple procedures, like extractions. Once you've healed from any previous treatments, you'll undergo your placement surgery. Sedation or anesthesia is used to ensure you're comfortable while an implant post is strategically placed into your jawbone. With the post acting like a root, it stimulates new bone growth to allow your jaw to fuse to it through a process called osseointegration.
It can take several months for your bone to heal. Afterward, you'll need a second minor surgery to connect the abutment. Your gum tissue will heal around the fixture over the next 2 weeks. During this time, the dental lab will be carefully crafting your restoration to meet your specifications. Once your gums are healed, you'll return to your dentist to have your new tooth affixed to the abutment.
What are the Benefits of Dental Implants?
As the only prosthesis to mimic the entire tooth, dental implants offer exceptional advantages that aren't possible using any other method, including:
Over a 95% success rate to last for several decades.
Looks natural to blend in with your real teeth.
Regain as much as 70% of your biting force.
Preserves your jawbone to stop dental drift.
Don't rely on other teeth for support.
Long-term, cost-effective solution.
Dental Implants 101
If you're ready to enjoy a complete smile again, take your first step toward improved confidence by scheduling your consultation for dental implants. Your dentist will provide the individualized plan you need to treat your tooth loss.
About Dr. Stacy Goodwill
Dr. Stacy Goodwill has over 20 years of experience in dentistry. She earned her dental degree at the University of Nebraska College of Dentistry and has completed additional training through SPEAR Education. As a member of the International Dental Implant Association, she has the experience you need to replace your lost teeth. Contact our office today to schedule your consultation.