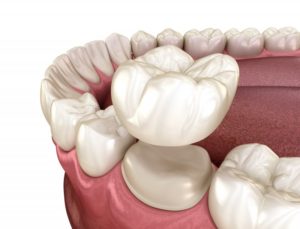 If your dentist tells you that you require a new crown, you might heave a big sigh. After all, you may expect to have to miss at least two days of work or school: one day when your dentist is preparing your tooth for the crown, and another day when you go back to the office to have the crown placed. Not only is this inconvenient, but it can feel like a waste of your hard-earned paid time off (PTO). Wouldn't it be nice if you only had to take one day off of work to get your crown? Now you can! CEREC same-day crowns can provide you with a permanent restoration in a single appointment. Let's talk more about how this remarkable dental technology works.
What Is CEREC?
CEREC is a technology that allows your dentist in Fargo to design and fabricate a permanent crown in a single appointment. It involves the use of a digital scanner that takes a detailed, three-dimensional image of your teeth. That impression serves as the basis for designing your crown. After your dentist finalizes the design with the help of advanced software, an in-house milling unit will precisely carve the crown out of a single block of dental-grade porcelain.
CEREC eliminates the need for your dentist to send your crown's design to a laboratory, which means you will not have to wear a temporary crown while you wait for your permanent one to be created. Of course, you'll also be able to reduce your number of dental appointments and save your PTO for the more important things in life, like your family and much-needed rest and relaxation.
Additional Benefits of CEREC
In addition to enabling you to avoid taking extra time off of work or school, CEREC technology offers some remarkable benefits:
There is no need for messy, uncomfortable manual impressions.
Because you'll get your permanent crown right away, you won't have to worry about accidentally dislodging or damaging a temporary restoration.
Avoiding unnecessary trips to the dental office can help you to maintain social distancing as much as possible during the COVID-19 pandemic.
CEREC crowns look natural and offer durability that is comparable to that of traditional restorations.
Most dental insurance policies cover CEREC restorations.
Would you like to learn more about how CEREC may benefit you? Not every dental office offers it, so you will need to search for one in your local area that has invested in this amazing technology. Once you find one, give them a call to ask how you can experience the time-saving convenience of same-day crowns.
Meet the Practice
Dr. Stacy Goodwill has been practicing dentistry for well over 20 years now. Along with Dr. Jessica Majidian, she provides top-tier, personalized care to residents of Fargo and the surrounding communities. They are proud to use CEREC and other advanced technology to provide patients with efficient treatment that exceeds expectations. To learn more about our doctors and the technology in our office, contact Cornerstone Dental at 701-237-3583.