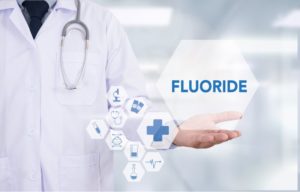 Brushing, flossing, and minimizing your sugar intake are all important parts of cavity prevention. However, there is an unsung hero in the fight against dental decay that many people do not give much thought to: fluoride. This remarkable mineral can play a huge role in fortifying your smile and protecting it against the ravages of cavities. How does it accomplish that? A dentist in Fargo is here to explain the science behind this remarkable mineral.
How Cavities Form
To understand how fluoride works to fight cavities, you should first know a little about how cavities form. The process begins when the foods you eat — specifically, simple carbohydrates — interact with the bacteria in your mouth. The bacteria feed on the little food particles in order to multiply. As they do so, they produce acid. The acid damages the outermost layer of the teeth, the enamel. As the damage progresses, small holes form in the enamel and can continue to deepen until they reach the inner layers of the tooth.
Fluoride Fights Dental Decay
The key to preventing cavities is ensuring that the teeth have the raw materials needed in order to remineralize, or replace tiny bits of enamel that get worn away during everyday eating and drinking. Your saliva naturally has compounds that contribute to remineralization, including calcium and phosphate. However, when fluoride combines with the minerals that already exist in your saliva, it helps to create the strongest possible defense against cavity formation.
Some people have expressed concerns over fluoride because taking in too much of it can pose health risks. However, there is no need to worry. The American Dental Association (ADA) — as well as an extensive body of research — indicates that the vast majority of people should have no concerns about being exposed to fluoride. The benefits far outweigh any potential risks.
Using Fluoride to Fortify Your Smile
Here are some ways in which you can take advantage of fluoride's cavity-fighting powers:
Use a fluoride-containing toothpaste that has been approved by the ADA
Drink tap water (many municipalities fluoridate their water supplies)
Consider rinsing with a fluoride-containing mouthwash
You can also ask your dentist about an in-office fluoride treatment. A member of the dental team will apply a concentrated fluoride varnish to your teeth to give them an extra line of defense against decay. Right now through the end of November, our practice is even running a new patient special that allows you to take advantage of a FREE fluoride treatment when you come in for your first exam.
Fluoride offers strong protection against cavities. Make efforts to take advantage of this remarkable mineral's benefits!
About the Author
Dr. Stacy Goodwill has more than 20 years of experience in dentistry. After earning her dental degree from the University of Nebraska College of Dentistry, she completed an Advanced Education in General Dentistry (AEGD) post-graduate program with the Navy. Along with Dr. Jessica Majidian, she provides a range of preventive services, including exams, cleanings, fluoride treatments, and much more. To learn more about our practice or our FREE fluoride treatment promotion, contact us at 701-237-3583.